When traveling, whether it's for work or play, we all like our hotel to be a place of quiet respite and at times to serve as a calm oasis in the storm, depending on what our travel plans might entail. (If you're in Vegas this might not be the case, but that's a subject for a different article!)
Have you ever wondered how hotels achieve the serene and comforting ambiance they provide to a huge range of guests on a daily basis? A lot goes in to creating spaces that are both inviting and exciting, and doing so within a certain square footage and budget limits makes for an interesting puzzle.
Peaceful ambiance
Hotels create atmosphere by engaging you with things you do and don't see with the naked eye. While the architecture and furnishings can be plush and comfortable, and a cozy space with a roaring fire will beckon you to relax and enjoy your drink there after a long day of work or play, so much more is taking place to create a positive memory for you that you will hopefully share with others.
Unparalleled service
The decorum of the staff is paramount in making you feel welcome and supremely cared-for. Ensuring that all staff members are on the same page in their treatment and dealings with guests goes a long way toward a happy customer, and one who will gladly return. Classes on guest etiquette and rewards for hotel employees who go above and beyond play a key role in hotels that produce top ratings from guests.
Mood lighting
Lighting is a main source of the relaxing Zen-like ambiance most hotels strive to create. By letting natural light come through large windows, showcasing the architecture and decor of a hotel during daylight hours, guests get a feeling of wellness and energy to help take them through their daily activities. In the evenings light creates an atmosphere of both relaxation and fun in more intimate areas, such as in the hotel bar, and provides security with spotlights and motion-sensor lighting outside. In the ever-popular hotel spa space, lighting is again a key element in helping you attain your Zen mood. Dim lighting, often in the form of recessed lights, fosters a calming, nurturing ambiance where guests can easily relax and let go of daily stresses.
Health services
In addition to elaborate spas with an assortment of rejuvenating treatments, many more hotels now offer extensive health-related services. Examples include updated and expanded workout facilities and special meal services for vegan, gluten-free or other diets.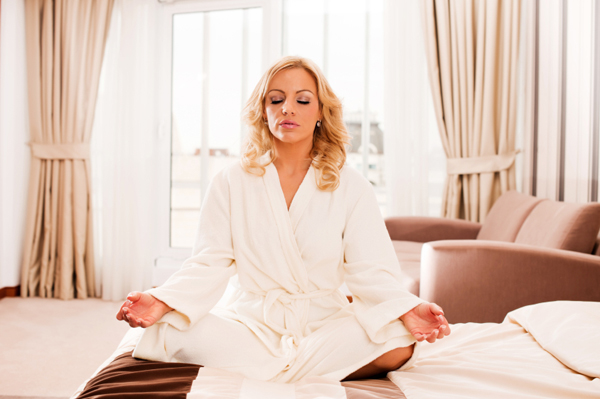 Color therapy
Hotels use a variety of colors to soothe guests so they will enjoy the time spent in their guest rooms. Neutral and earth tones for walls are always popular, and surveys report guests find them the most restful. Dimmer switches on bedside lights allow each person to control their own lighting destiny, while bathroom lighting is designed down to the very last detail. After all, if you are a woman applying makeup and styling your hair in there, you want every inch of the room lit up like a holiday tree!
Fine linens
Top-notch bed linens and the most comfortable mattresses make getting a good night's rest a piece of cake. Some hotels even offer information to purchase the linens and mattresses so you can recreate the experience in your bedroom. Let's not forget the soft, plush towels and warm robes, which make you feel at home.
When you're away from home you want to make the most of your ability to unwind and decompress. Even if you are checking in for a work-related trip, hotels want you to find their establishment relaxing and enjoyable. Much has gone into unlocking what it will take to help you find your own personal Zen, and hotels worldwide want to hand you the keys.
Source : http://www.sheknows.com/living/articles/958117/how-hotels-create-zen-ambiance